Our grads all know Katy Tipton from her instant support starting with sign up all the way through to course completion. So we thought it'd be fun for those of you considering our SaaS Sales Foundations training and job placement to get to learn more about Katy, one of your main points of contact on the candidate success team.
Katy is always there to track your progress and provide support and encouragement if you get nervous about your role play projects and final assessment. For those who pass and graduate, Katy is also the one behind the scenes scheduling interviews for you with our hiring partners and providing guidance and feedback on interview prep.
Like so many of our candidates, Katy has had a diverse career background. One that started in the travel industry and now is front and center in helping people start their SaaS sales career. Read more about Katy and her advice for anyone considering Aspireship.
Read our past interview with Ana Majusevic, Candidate Experience Consultant at Aspireship here.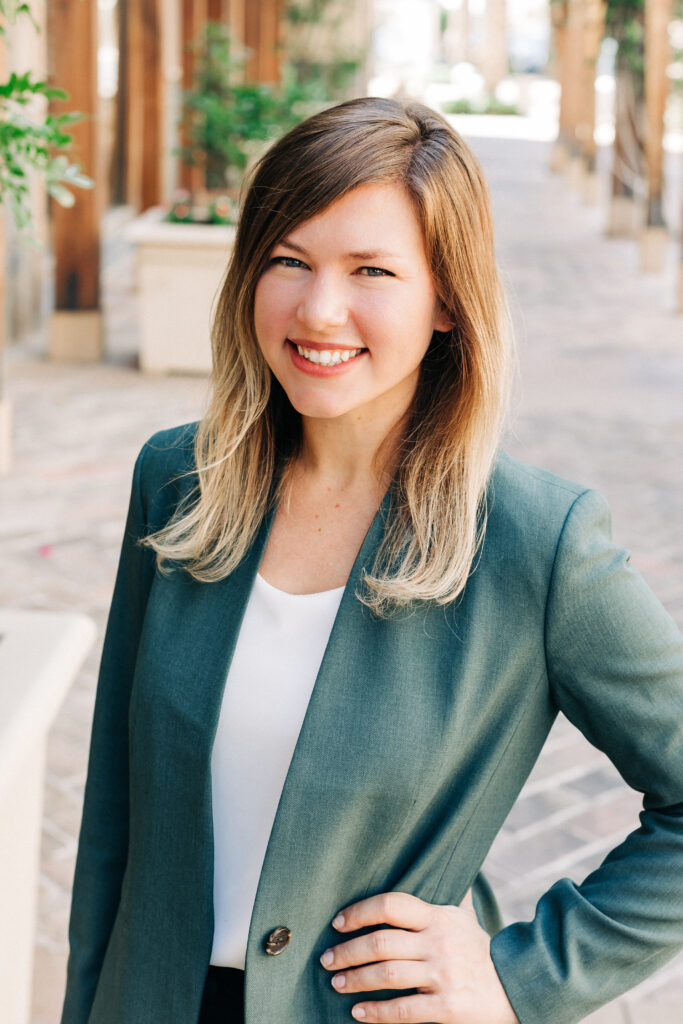 Connect with Katy on LinkedIn!
On Her College Studies and Interests
Aspireship: What did you study in college? Where? Why?
Katy: I graduated from ASU with a B.S. in Sociology. I was drawn to learning about the science of human behavior. Having the opportunity to take a deep dive into social causes that I'm passionate about was so fulfilling.
Aspireship: What are some fun facts that Aspireship candidates should know about you?
I'm a bigggg – BIG fan of the Phoenix Suns! I'm still floating on cloud 9 that we made it to the NBA Finals this year!
When COVID-19 began, I decided that the indefinite quarantine period would be a perfect opportunity to "temporarily" foster an animal. I lucked out and got to bring home the sweetest little Cairn Terrier puppy named Hank. He immediately won my heart, and a few short weeks later, I became a foster failure and adopted him.
I grew up doing theatre for many years and even finagled my way onto the stage for a musical in Bye Bye Birdie (despite my awful singing abilities).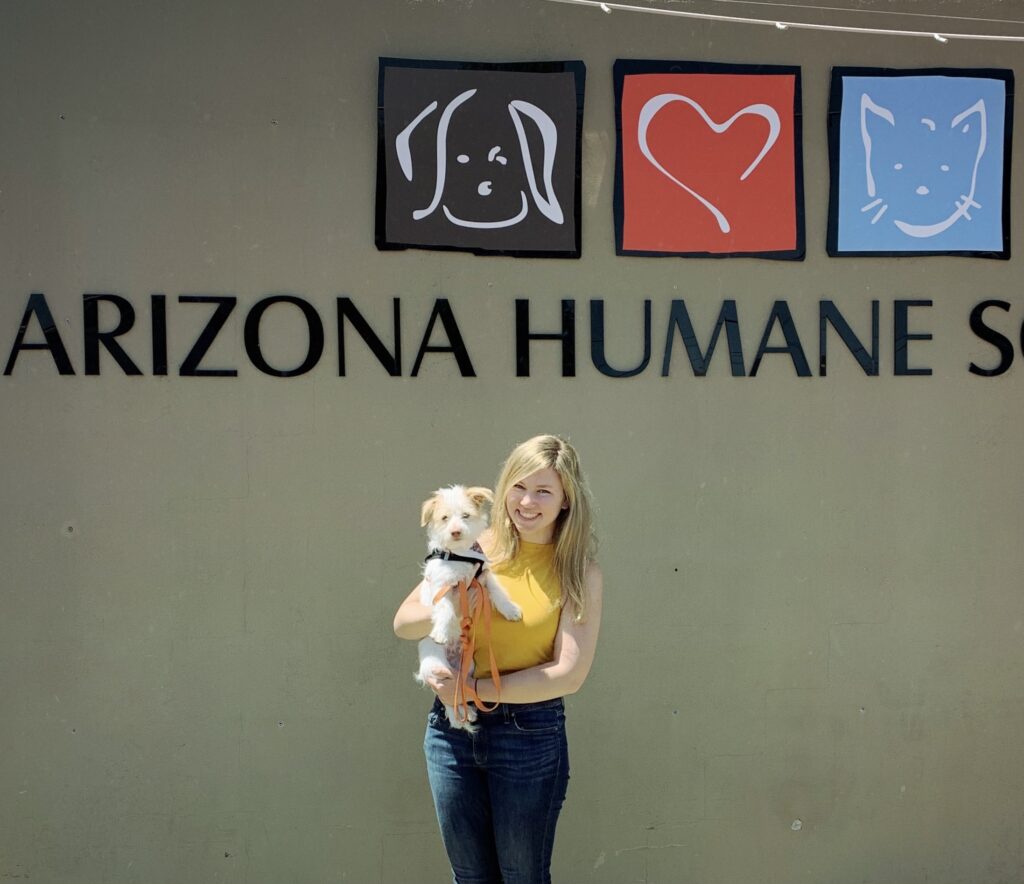 From Working as a Flight Attendant, to Digital Advertising, to Candidate Experience Specialist at Aspireship
Aspireship: What was your career history before Aspireship?
Katy: I was at a transitional point in my life and was unsure of my next career step. On a whim, I submitted an application to an airline to be a flight attendant. Getting the chance to travel the world seemed equally amazing and far-fetched. Much to my surprise, I was invited to interview and extended an offer! I had a couple of the most adventurous years, priceless experiences, and made so many lifelong friends – all while being paid to explore! What a dream!!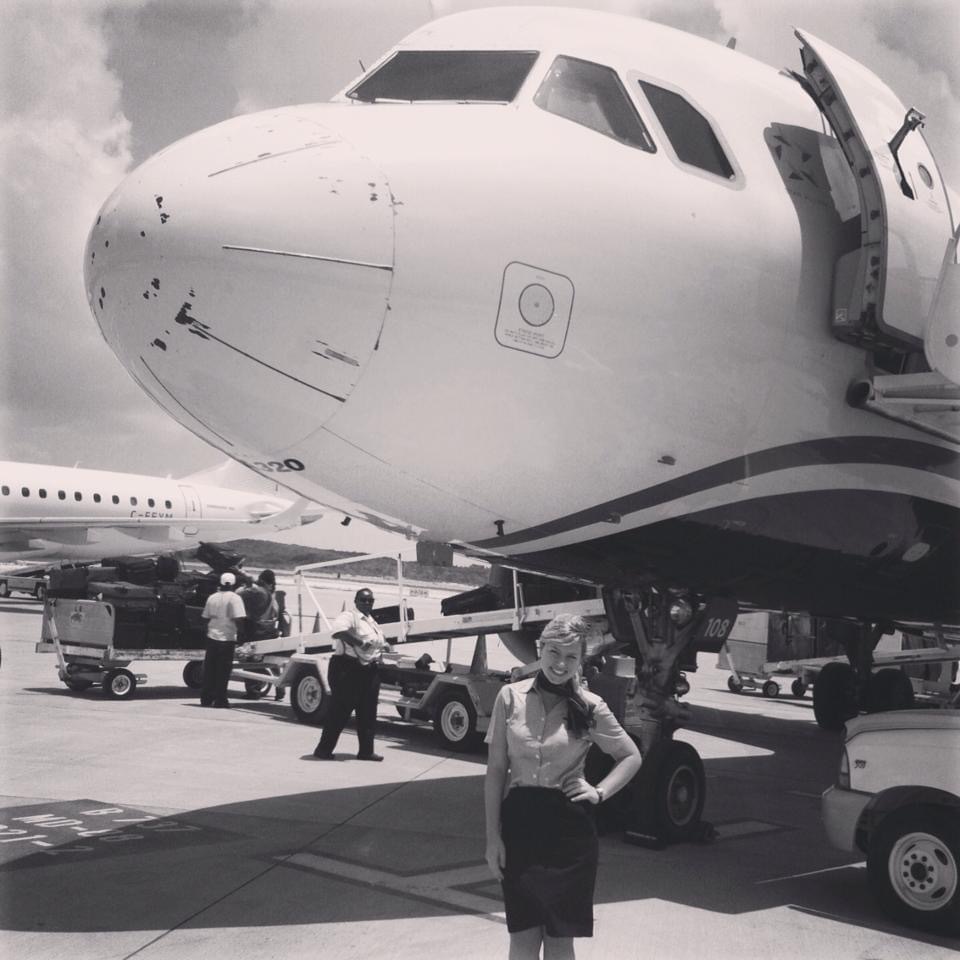 As incredible as it was, I eventually craved a "normal" lifestyle again and began seeking an opportunity that would allow me to spend more time at home with family and friends. I knew someone who'd been working in Revenue Operations for a while and he referred me for an Ad Operations role. In this role, I was responsible for creating and managing ad campaigns for local and franchised businesses. I learned so much about the world of digital advertising!
As I grew deeper into the role, my priority shifted to QA and to maintaining the integrity and accuracy of our platform. I established a team that focused on reinforced training. I also led a committee that fostered team culture and engagement. I coordinated corporate off-sites, theme weeks, and my personal favorite – I helped our department win the company Halloween decorating contest year after year. 🙂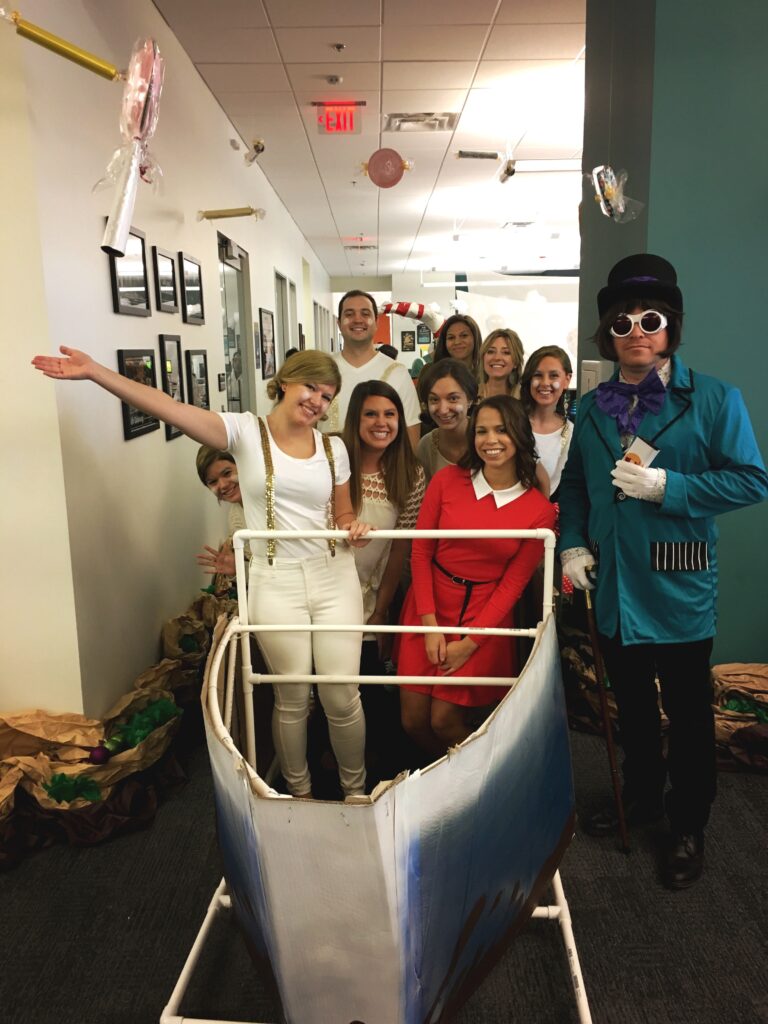 Eventually, I started looking for more growth, and decided to leave and join a small start-up in a similar role. There are a lot of benefits to working for a small company, and there were huge learning opportunities for me! I learned the ins and outs of mobile advertising on a very technical level, and was even able to stretch and take on projects across other departments as well.
Then, one day my path changed. I kept seeing this company called "Aspireship" all over LinkedIn. I saw so many positive and encouraging posts that celebrated people landing jobs in the middle of a global pandemic that left so many wondering what their next steps would be. Having come from the airline industry myself, I knew a lot of people who were suddenly out of work and were struggling to figure out what to do next. I immediately connected with Aspireship's mission to reshape the way people pursue career changes. Free training AND an opportunity to land a new career regardless of previous experience?! Incredible. When an opportunity became available to join the Aspireship team, I jumped at the chance to be part of this amazing crew and have been on the 'ship helping candidates land jobs ever since!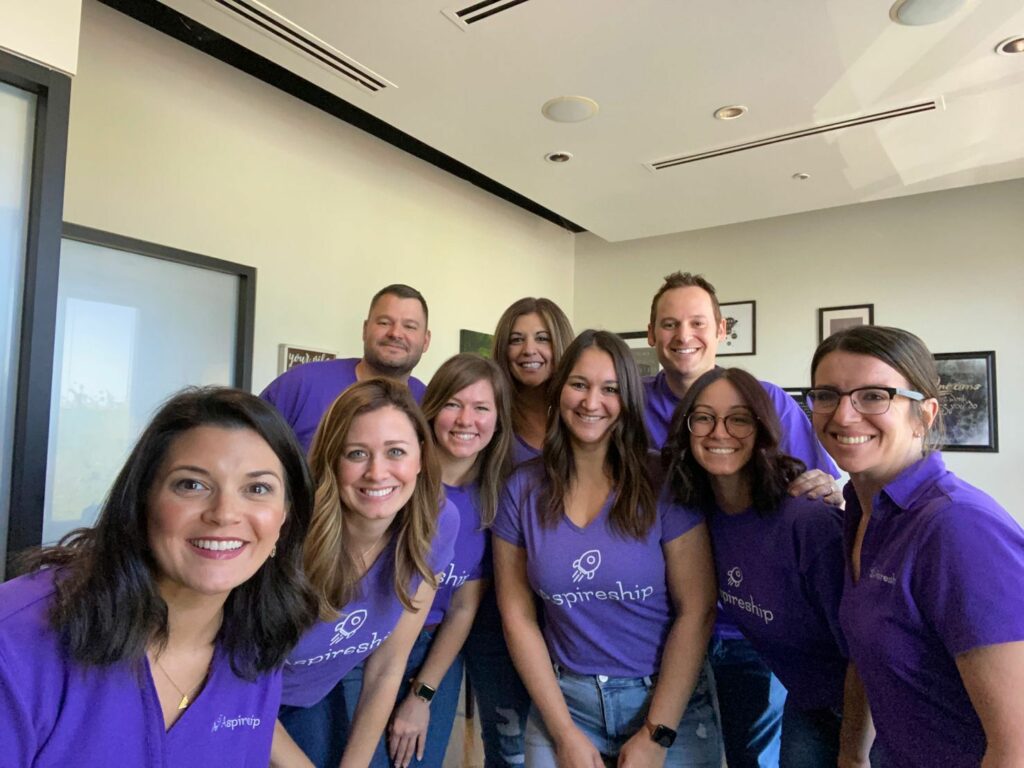 Aspireship: Looking back, what advice would you give to yourself when you were determining next steps on your career?
Katy: Know your strengths, consider where you have room to grow, and think about when you feel the happiest. Learn as much as you can in each role that you have, and look at every learning experience as an opportunity. It's never too late to start a new career! Don't feel limited by your current path if you're interested in pivoting into a new role or industry. If something feels out of reach, that's your signal to stretch.
On Helping Others on Their Journey in Sales & Her Role at Aspireship
Aspireship: What advice do you have for those looking for their next opportunity in sales?
Katy: Be eager and hungry to learn. Network, get advice, and learn from others in sales communities like Thursday Night Sales. Understand and be able to articulate your motivations for being in a sales role. Lastly, brush up on your skills with our SaaS Sales Foundations program at Aspireship, and let us help you land a job with one of our hiring partners!
Aspireship: What excites you about working with Aspireship candidates?
Katy: More than anything, I love being a resource to help people break into a new industry and land a job that they really want. The initiative that our Aspireship candidates showcase upon taking and completing a course on their own to better their skills for new opportunities is very special. It feels very rewarding to have a hand in the process of helping candidates find a job that they've been working so hard toward finding, AND be successful in it.
Aspireship: What common traits do Aspireship hiring partners consistently look for in new candidates?
Katy: Tenacity. Hunger. Problem solvers with a genuine curiosity. Team players. Attentive listeners.
Aspireship: What's been your favorite Aspireship grad takeaway to date?
Katy: EVERY TIME an Aspireship candidate graduates and lands a new job, our ENTIRE team celebrates the win and is genuinely excited for them. The positivity is contagious! It's difficult to name a favorite takeaway, because I feel so proud of each and every Aspireship grad.
We LOVE celebrating the unique stories from each of our grads. Read our success stories here.
Aspireship: What words of motivation do you want to share with those hoping to pass the assessment?
Katy: Take advantage of our video library. Take lots of notes! Set aside ample time for the projects. Utilize your resources. MOST importantly, remember that we are rooting for your success and are here to support you!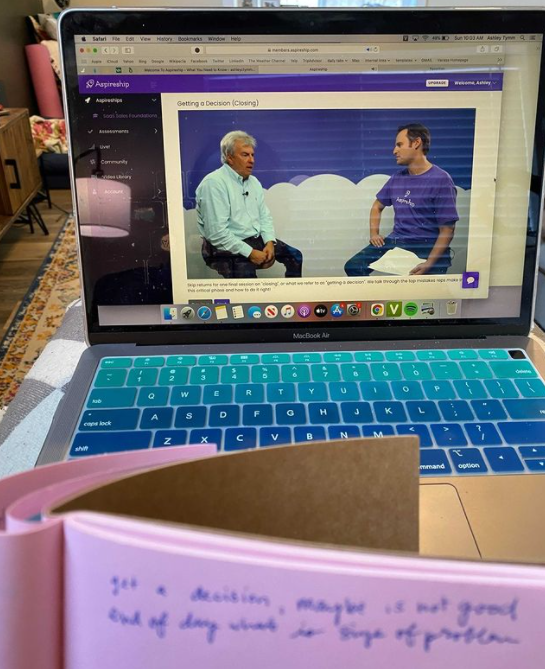 Ready to begin your journey in SaaS sales? Create your free Aspireship account and start learning today.