Do something today that will impact your career forever.
INTRODUCING ASPIRESHIP UNLIMITED.
Now with one simple click, you can invest in yourself and an evergreen growth plan. Get an Aspireship certificate, lifetime access to our video library, membership in our Slack community and more for a one time payment of $180.00.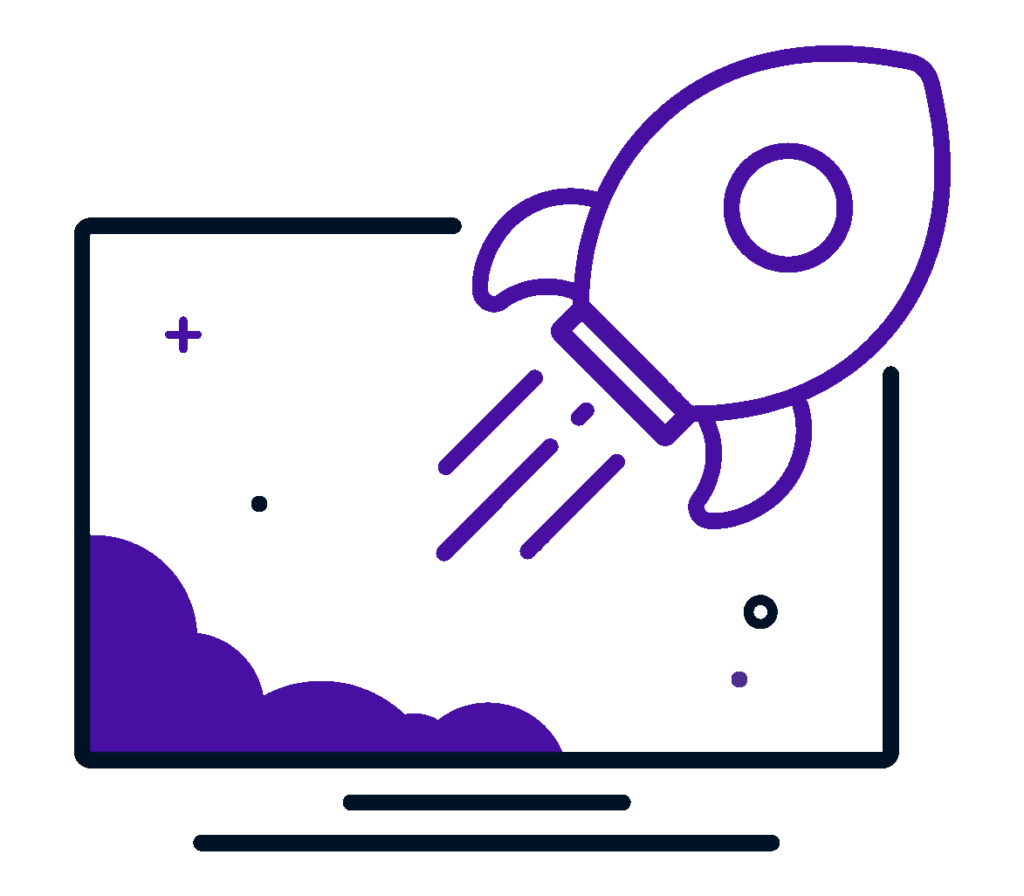 Always have the tools you need as you go from newbie to next level, SDR to AE, individual contributor to leader, and wherever else your SaaS sales career takes you.
Can't complete Aspireship in 30 days? No sweat. Unlimited provides you with additional time to complete SaaS Sales Foundations AND also gives you the ability to log back in & review the material as you move forward in your career.
Things change, and software sales changes even faster. Unlimited provides you with continued professional development and our expansive video library of relevant, up to date training and interviews! Keep your learning hot streak going.
Previously only available to grads, Unlimited now provides you with networking, support and encouragement from the Aspireship Slack community. Connect with grads, our team and other unlimited members.
Exclusive, free, bonus access to SaaS sales tools that all the top reps use. Improve your email effectiveness with 3 free months of email writing coach Lavender and BombBomb for video prospecting.
Need to retake the assessment? We've got you. Unlimited provides you with the ability to retake SaaS Sales Foundations, once every 90 days, until you pass.
Want a certificate? It's included with Unlimited. As a member, you'll get your very own industry recognized certificate of completion upon passing SaaS Sales Foundations.
Get exclusive, extended access to:




Access the largest video training portal for SaaS sales professionals.
Get a front row seat to the most valuable advice in SaaS. Our video library covers everything from creative prospecting to pipeline management, presentation skills mindset and more! Plus, we update the video library with 2-3 new sessions every single month. 
Learn even more from Skip Miller!
Gain insights on RevOps and other aspects of SaaS.
We cover deal sizes of all kinds! "Selling to SMB's With Scott Leese."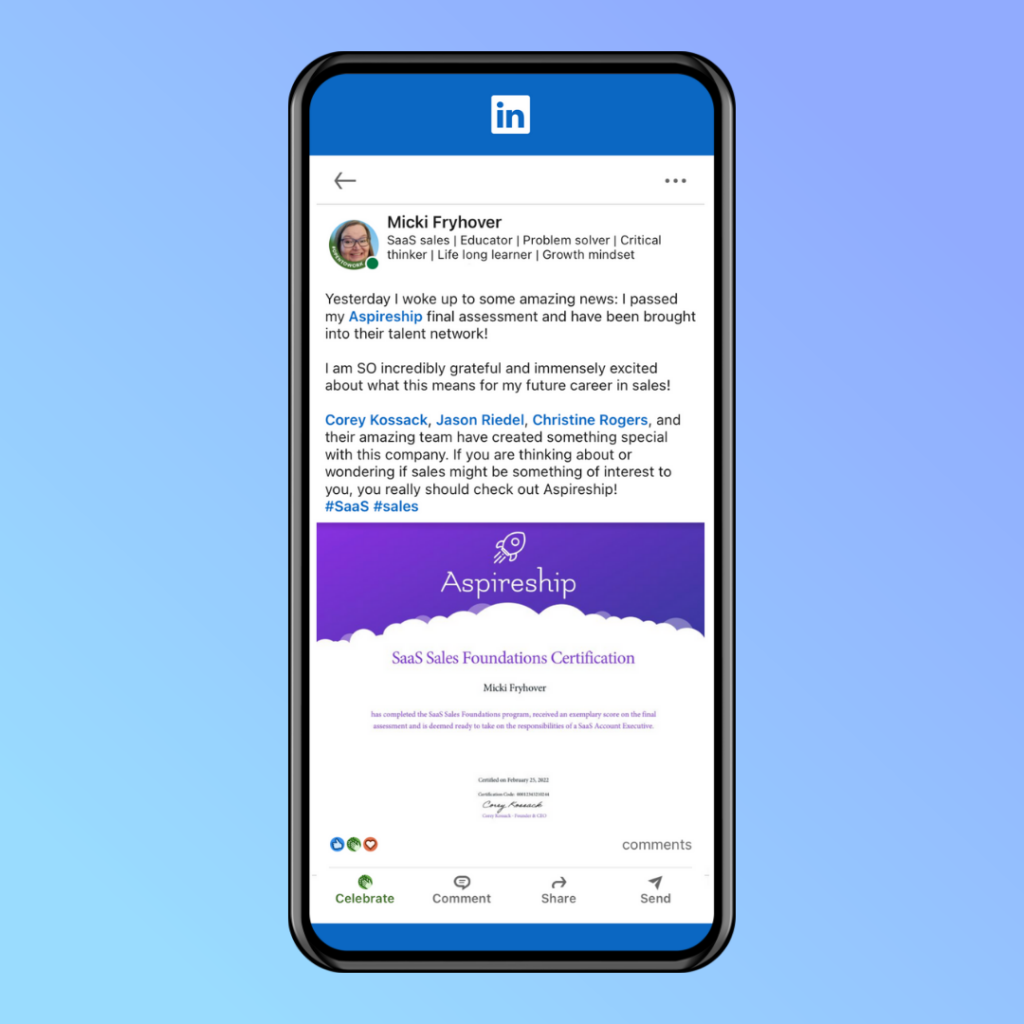 Share Your Industry Recognized Certificate As Soon As You Receive It
It's not official until it's LinkedIn official.
Upon passing, Aspireship Unlimited members get their very own SaaS Sales Foundations, industry-recognized certificate!
Show it off on LinkedIn, add it to your resume, or hang it on your wall!
What People Say About Aspireship Unlimited
Brad M.
Aspireship Unlimited Community
"Today, I invested in Aspireship's Unlimited access. Time to hit the books and be better! I want to fill in any gaps in my skill set and hone my craft to become the best I can be."
Micki F.
2022 Aspireship Grad

"I decided to purchase Aspireship Unlimited because of the supportive community and on-demand access to the video library, which will help me continue to grow in my new role."
Todd B.

Partnerships Manager, BombBomb
"The entire team at BombBomb is excited to help Unlimited members really embrace video marketing with free, extended access and our collection of resources."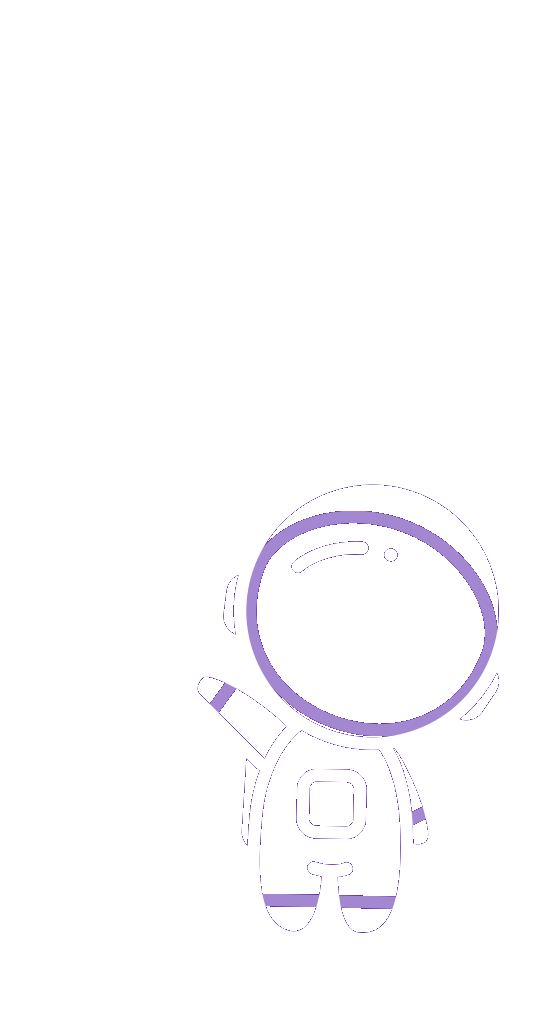 If you're excited about Unlimited but aren't sure when you should upgrade, keep reading.
Sign up for Unlimited as soon as you start learning, when you graduate or if you signed up for a 30 day trial but never made progress. No matter your circumstance, Unlimited is the answer.
We know what you're thinking. "That's it? $180 for lifetime access? Like "lifetime" lifetime?" Yes, we mean it. From now until eternity
Ready to go? We hope so!