Looking to land a new role in customer success?
You're in the right place. Customer Success Foundations is designed to help you land and succeed in a new role as a Customer Success Manager, Onboarding Specialist or Implementation Specialist at a tech company. 
Of interactive, on-demand curriculum, engaging interviews and hands on exercises.
We've designed the learning process to be completed in as little as 5 hours per week for 4 weeks or less.
Learn on your own schedule. Our curriculum is compatible across mobile & computer devices.
Aspireship provides access to job opportunities in the United States for program graduates.
Learn everything you need to know to land your new role and hit the ground running.
Customer lifecycle
Onboarding
Proactive engagement
Running business reviews
How to become a top performer
And much more!
Veteran customer success leader, Brian Raboin, talks us through how to navigate the tricky task of handling at-risk customers!
Getting Customers Started (2 Hours)
Welcome
The Customer Lifecycle
Onboarding
Setting Expectations
Keeping Customers Engaged (3 Hours)
Getting Customers To First Value
Proactive Engagement
Empowering Your Customers
Handling Difficult Situations (3 Hours)
Identifying and Handling At-Risk Customers
Having Difficult Conversations
How To Build A Great Relationship With The Sales Team
Identifying New Opportunities (2 Hours)
Running A Customer Objectives Review
Expansion
Setting Yourself Up For Success (5 Hours)
A Day In The Life of a CSM
How to Become a Top Performing CSM
Roles & Career Paths
Metrics & Terminology
Practice Projects (3 Hours)
Difficult Conversation (Video Simulation)
Onboarding (Video Simulation)
Final Assessment (1-2 Hours)
Final Quiz
Final Projects
Complete 20 hours of a foundational on-demand customer success training course designed for the tech industry, plus elective live and on-demand content led by industry experts.
Complete our assessment that tests your knowledge and customer success skills to get certified and earn a spot in the Aspireship Talent Network.
Meet a Few of our Expert Instructors
Megan Bowen
Topics Covered: Proactive Engagement | Roles & Career Paths
Megan is an operator, a problem solver and a customer advocate who has a proven track record of building and leading teams that scale and succeed. She has experience working across early-stage startups and later-stage companies primarily focused on B2B account management, customer success, marketing, sales, customer service, and operations. Megan is currently the COO at Refine Labs, a demand accelerator for B2B SaaS companies.
Brian Raboin
Topics Covered: Onboarding | Identifying & Handling At-Risk Customers 
Brian is an entrepreneurial spirited leader with more than 10 years of experience in developing and delivering high quality products and managed services in the SaaS and IaaS space. He is a thought-leader in the world of product development and customer success. Brian previously led Customer Success at Booker & Mindbody, and currently serves at COO at Mailgun.
Jeff Breunsbach
Topics Covered: Empowering Your Customers
Jeff is one of today's most respected thought leaders in the world of customer success. He is the co-founder of Gain Grow Retain, a community of 5,000+ customer success leaders who learn from one another. Jeff also currently serves at the Director of Brand at Higher Logic, a SaaS company that enables companies to engage with their customers through community and marketing automation.
Kristi Faltorusso
Topics Covered: Running a Customer Objectives Review
Kristi is an award winning Customer Success Executive with experience in building, scaling and transforming Customer Success organizations. Currently, she is the Chief Customer Officer at ClientSuccess, a leading Customer Success Management solution. In addition, she is the Founder of Keeping CS Simple, a content experience, supporting the simplification of Customer Success for Executives, CS Leaders, CPSs and more.
Get full access to Customer Success Foundations, live interview prep sessions, peer support, tech tools and free access to other Aspireships for career exploration with Aspireship Unlimited
Unlimited unlocks full lifetime access to the Customer Success Foundations Aspireship and other Aspireships to help you continue to explore and advance as your career progresses.
Every interview is an opportunity, but are you ready? Unlimited gives you access to live group interview prep sessions to help you put your best foot forward in upcoming interviews.
Unlimited provides you with networking, support and encouragement from the Aspireship Slack community. Connect with grads, our team and other unlimited members.
Exclusive, free, bonus access to SaaS tools that top customer success professionals use. Improve your email effectiveness with 3 free months of email writing coach Lavender and BombBomb for video messaging.
If at first you don't succeed... We've got you. Unlimited provides you with the ability to take the Aspireship final assessments up to 3 times, once every 30 days, until you pass.
Want a certificate? It's included with Unlimited. As a member, you'll get your very own industry recognized certificate of completion upon passing Customer Success Foundations.
Real people. Real results.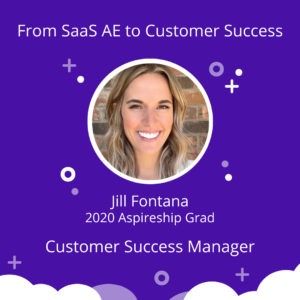 "Aspireship not only helped me find my next career home, but gave me all of the training I was eager to get but just couldn't from previous leadership."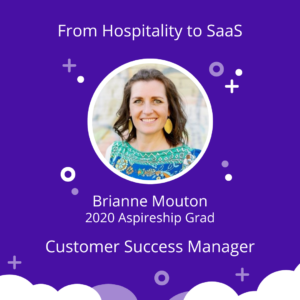 "The team reminded me that I'm not alone in this. Aspireship helped me land with the perfect company."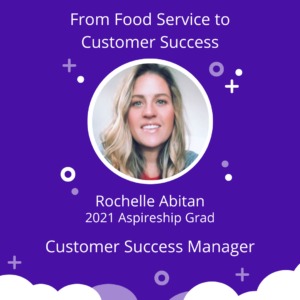 "After leaving the catering industry, I found myself needing to transfer my expertise from service to tech. Aspireship helped make that transition seamless."
Final Details Before You Start
Choose the path that's right for you.
Forever Free - Access to the Aspireship video library, Section 1 of Customer Success Foundations and SaaS Sales Foundations, and Aspireship Live! at no cost.
Aspireship Unlimited - Full access to Customer Success Foundations, SaaS Sales Foundations, live interview prep sessions, certification, peer support, tech tools and more for a one-time investment of $180.
We educate and place people from all experience levels.
Current CSMs, onboarding specialists and implementation specialists, we can help you, too! Through our resources, you can improve your performance on the job and fast-track your path to promotion faster, while staying up to date on the latest trends in customer success.
Do I have to finish in 4 weeks?
We understand that all schedules and learning styles are unique. For this reason, we've designed the experience to be completed in as little as 5 hours/week over a 4 week period. With that said, you're welcome to move at your own pace. Some candidates complete the program in under a week, while others may complete the program over an extended period.
What happens after I finish Customer Succcess Foundations?
Upon completion of your coursework and projects, your assessment will be graded. If you receive a passing score, you will be notified of your admittance into the Aspireship Talent Network, where we proactively help you get hired by great tech companies that partner with Aspireship to hire program graduates. Learn more about how we help you get hired.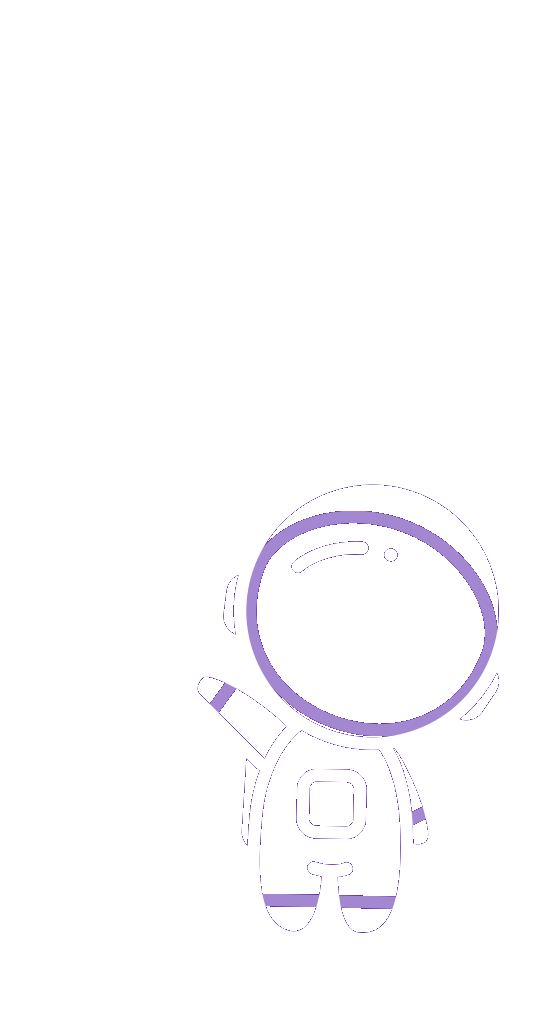 Ready to get hired? We hope so!
If you're serious about making the pivot into customer success or leveling up in your current role, Unlimited is the answer.
We know what you're thinking. "That's it? $180 for lifetime access? Like "lifetime" lifetime?" Yes, we mean it. From now until eternity