Looking to land a new role in SaaS sales?
You're in the right place. SaaS Sales Foundations is our flag-SHIP program to help you land and succeed in a new role as a Sales Development Representative, Account Executive or Account Manager. 
Of interactive, on-demand curriculum, engaging interviews and hands on exercises.
We've designed the learning process to be completed in as little as 5 hours per week for 4 weeks or less.
Learn on your own schedule. Our curriculum is compatible across mobile & computer devices.
Aspireship provides free job placement, in the United States and Canada, for graduates of our training.
Learn everything you need to know to land your new role and hit the ground running.
Consultative selling
Multi-channel prospecting
Qualifying leads
Pipeline management
How to become a top performer
And much more!
Best selling author and training expert, Skip Miller, shows us Step 1 in the Buy/Sell process that helps you think like a buyer!
Intro to the SaaS Sales Process (2 Hours)
Welcome
The Buy/Sell Process
Asking Questions
Applying Consultative Selling (4 Hours)
The Demo
Handling Objections
Getting a Decision (Closing)
Managing the Sales Funnel (5 Hours)
Pipeline Management
Using a CRM
Understanding Your Ideal Customer
Prospecting
Demand Generation
Setting Yourself Up For Success (5 Hours)
Your Personal Brand
Interacting with Leadership
A Day in the Life
Becoming a Top Performer
Practice Projects (3 Hours)
Reactivating a Dormant Lead (Phone Call Simulation)
Educate Each Other (Discovery Call - Video Simulation)
Final Assessment (1 Hour)
Final Quiz
Final Projects
Complete 20 hours of a foundational on-demand SaaS sales training course, plus elective live and on-demand content led by industry experts.
Complete our assessment that tests your knowledge and sales skills to get certified and earn a spot in the Aspireship Talent Network.
Meet a Few of our Expert Instructors
Christine Rogers
Topics Covered: The Demo | Your Personal Brand | Becoming A Top Performer
Christine Rogers is the President and COO of Aspireship.com. With over 15 years in recruiting, hiring, training, and managing high-performing sales teams at fast-growth SaaS companies, she is passionate about advancing and contributing to sales training and education. She is a frequent guest on industry podcasts and helped create and design Aspireship's SaaS Sales Foundations curriculum.
Brent Kraus
Topics Covered: Pipeline Management | Prospecting 
Brent Kraus is the SVP of Sales, onboarding and success at ChowNow, and has over fifteen years of experience in SaaS sales leadership. He is passionate about building and leading sales organizations and contributing to overall growth. He described himself saying "I'm a world ranked amateur triathlete who brings the same drive and passion into any environment; I love to win, and have fun - so do the teams I build!"
Skip Miller
Topics Covered: The Buy/Sell Process | Asking Questions | Handling Objections | Getting a Decision 
Skip Miller is a leading sales trainer and President of M3Learning, a proactive sales management and sales training company. He's also the author of bestselling books, Selling Above and Below the Line, Proactive Selling and Proactive Sales Management. And his most recent title, "Outbounding: Win New Customers with Outbound Sales and End Your Dependence on Inbound Leads."
Final Details Before You Start
Support to ensure you finish!
Throughout your time learning, our Candidate Experience team is behind the scenes monitoring your progress and available to answer any questions you may have about the material. Our mission is to help you finish what you start and land a new role in SaaS sales.
Do I have to finish in 4 weeks?
We understand that all schedules and learning styles are unique. For this reason, we provide free 30-day access for those who are prepared to commit to hitting the ground running now, but also have an optional membership, Aspireship Pro, which gives you ongoing access to SaaS Sales Foundations and the Aspireship Video Library, filled with 50+ hours of additional content from Aspireship Live! and beyond.
We educate and place people from all experience levels.
If you are new to SaaS sales, we can help you get hired! Say goodbye to hearing, "Your resume looks great but you don't have enough SaaS sales experience."  Current SaaS SDRs, we can help you too: improve your performance on the job and land an AE role faster. Current SaaS AEs: Sharpen your skills and stay up to date on the latest trends in SaaS. 
What happens after I finish SaaS Sales Foundations?
Upon completion of your coursework and projects, your assessment will be graded. If you receive a passing score, you will be notified of your admittance into the Aspireship Talent Network, where we proactively help you get hired by great SaaS companies that partner with Aspireship to hire SaaS Sales Foundations graduates. Learn more about how we help you get hired.
Real people. Real results.
"I still can't believe it's a free course. The team is so patient and genuine. Through the whole process, it was very clear they wanted to see me succeed. They gave me so much praise when I got my offer! One of the best feelings ever."
"Before Aspireship, I had applied to 53 jobs. As soon as I found Aspireship, & completed SaaS Sales Foundations, I accepted a new role in less than 60 days! For anyone currently job seeking and trying to work in tech sales, I can't recommend this enough."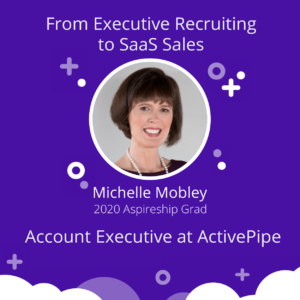 "I feel so fortunate to have found the Aspireship program at this point in my career. I was blown away by how comprehensive and challenging the Aspireship course actually was! I loved the variety of speakers and topics and the hands-on assignments and roleplays."