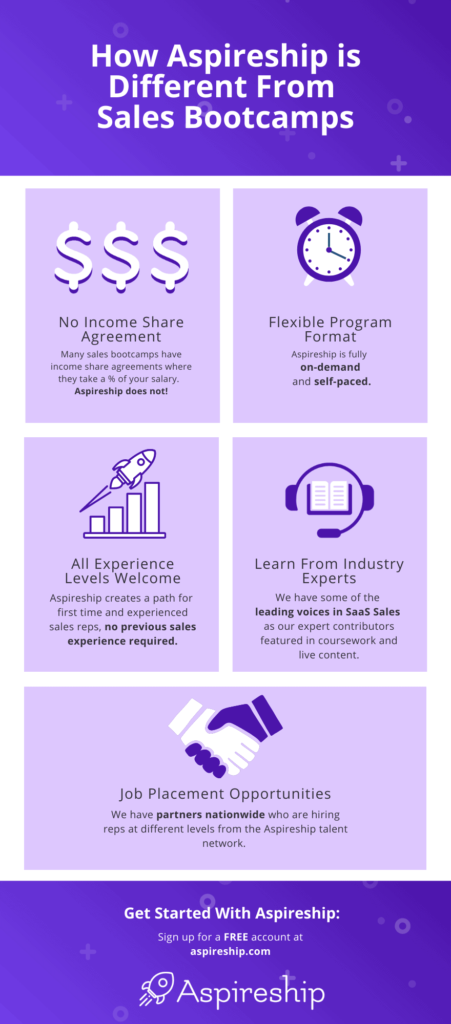 People often ask us, "What makes Aspireship different from other SaaS sales training companies and bootcamps?"
Here are a few of the ways we are different:
1. No Income Share Agreement
Other sales training companies/bootcamps have income share agreements where they take a % of your salary after you land a job (amounting to thousands of $$$).
Aspireship does not! We don't believe in the income-share model.
Read more about why we don't income share in this blog post: The Case Against Income Share Agreements (ISAs).
2. Flexible Program Format
Aspireship is fully on-demand and self-paced. You can sign up and start learning at any time whereas other training providers have small groups that have a fixed start date.
3. All Experience Levels Welcome
Aspireship creates a path for first time and experienced sales reps. We are open to all and don't require previous sales experience, just hardworking and determined individuals seeking a new skill set or level-up in their career.
4. Job Placement Opportunities
We have partners nationwide who are hiring reps at different levels from the Aspireship talent network. We directly support our graduates with the job match process, whereas alternatives mostly have you go out on your own to find a job.
Before Aspireship I was constantly trying to figure out what was next for me. I was going through the traditional motions of 'job hunting' and having no luck- trying to find inspiration in anything. I must have sent out 100 resumes with no luck.

Erin Garritty, 2021 Aspireship Grad
Read Erin's Full Aspireship Success Story
5. Learn From Industry Experts & SaaS Sales Leaders
We have some of the leading voices in SaaS Sales as our expert contributors through the SaaS Sales Foundation coursework and live content.
We cover SaaS sales vocab, process and more. You'll even complete mini projects to learn the skills needed as an SDR and AE. Create your free Aspireship account to start learning today.