What's Next? Career Pathways After Experience as a Sales Development Representative in the SaaS Industry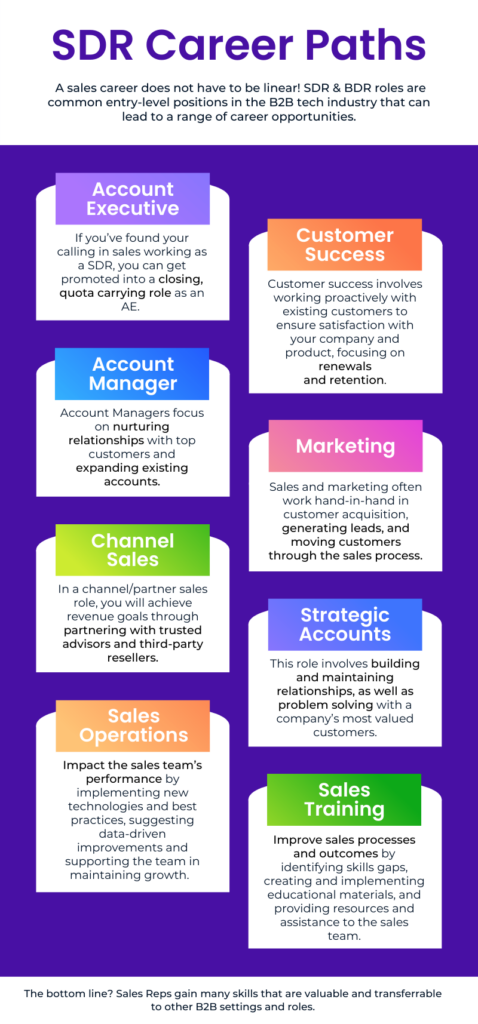 You may have heard that sales is a great entry-level role, especially if you're looking to break into the tech industry. This proves to be true because the skills one gains as a Sales Development Representative can be transferable to a multitude of career paths. Once you've spent time as a salesperson, doors can open up that allow for career advancement and growth.
A SaaS Sales Development Representative (SDR, often interchangeable with Business Development Representative or BDR) role is a challenging job, but this career can set you up nicely for many future career opportunities.
Invest in your soft skills and network.
Sales gives you a chance to acquire and practice soft skills that are valuable to any business setting. The sales world (and its community) enables you to grow your professional network, make connections, and nurture relationships that can be extremely beneficial throughout your career.
Some examples of soft skills include: communication, problem solving, teamwork, adaptability and time management.
Play to your strengths and interests.
The many responsibilities of a SDR allow you to try on different hats and figure out where your interests and strongest skills lie, as well as where they don't. Tasks such as researching potential new customers, crafting email outreach, booking meetings and maintaining relationships, are just a few of the common responsibilities of SDRs. You can find out if you gravitate towards the process and strategy related tasks, client-facing communication and relationship building, or even leadership amongst your peers. Being cognizant of strengths and interests in the early stages of your sales career will help guide you in the years to follow.
Eight possible career paths (after 1-2 years as a SDR or BDR)
Account Executive
Once you realize you've found your calling in sales working as a SDR, the next progressive promotion is moving into a closing, quota-carrying role as an Account Executive.
Account Executives (AEs) oversee customer accounts; responsibilities typically include prospecting new business, conducting demos, meeting new needs of existing clients, and most importantly, closing deals to bring in new clients and revenue for the company,
"In SaaS sales, an AE usually works with a Sales Development Representative (SDR), who develops initial interest and sets up the first sales meeting. The AE is then responsible for holding a discovery call, giving the prospect a product demo, and closing the deal" (Source: SalesHacker).
Click here to learn more about what an AE role entails as well as a compensation overview.
Customer Success
Customer Success involves working proactively with existing customers to ensure satisfaction with your company and product, focusing on renewals and retention. Some responsibilities include upselling products, problem solving, and helping a customer identify and reach his/her goals.
In recent years, demand for customer success reps has vastly grown in conjunction with the rise of SaaS companies. Software companies are consistently looking for ways to differentiate themselves from their competitors with similar products, and a personalized, human interaction makes for an elevated consumer experience.
BuiltIn Chicago recently interviewed eight Chicago based tech companies about their approach to customer success. One company said, "From sales to product to marketing, our customer success team impacts every facet of our business. We are not just helping sales close big deals but truly investing in the customer relationship from the start." 
Check out our Aspireship Live! interview with Megan Bowen, Chief Customer Officer at Refine Labs, where we talk about how sales can set the stage for long-lasting customer relationships, create effective handoffs to customer success and strengthen customer relationships through account management.
Sign in to find our full interview with Megan in the Video Library under the section: Bonus.
Account Manager
Account managers focus on nurturing relationships with top customers and expanding existing accounts, as opposed to closing new business, as AEs do.
"Unlike sales representatives, whose primary role is to sell to customers, account managers are responsible for all aspects of a customer's relationship with a company. They therefore work closely with all customer-facing departments in a company to ensure that each customer receives the highest standards of service" (Source: Small Business Chron).
Marketing
Sales and marketing often work hand-in-hand in customer acquisition, generating leads, and moving customers through the sales process.
As a marketer, you need to understand the ins and outs of your ideal customer profile (ICP), how they interact with your product, and most importantly, how your product would solve their pain points.
Marketing is a very broad industry bucket, and it is important to understand the role that various marketing teams play in the success of a business. For a breakdown, check out John Huang's article, "A Honest Guide to Starting a Marketing Career in Tech" on LinkedIn.
Channel Sales
In a channel/partner sales role, you will achieve revenue goals through partnering with trusted advisors and third-party resellers.
A Channel Sales Manager works with potential and existing partners to drive sales. Responsibilities include establishing a strategy, helping partners implement it, and working towards hitting sales quota.
Interested in learning more? Check out this excellent HubSpot resource.
Strategic Accounts
This role involves building and maintaining relationships, as well as problem solving with a company's most valued customers.
"The job is similar to sales except the focus is on long-term goals and optimization of customer accounts. In this career, you often work as part of a team to manage client relationships and create value to improve sales performance across the board" (Source: ZipRecruiter).
Other responsibilities include coordinating team members to provide help and support with client accounts, devising appropriate sales strategies for clients and identifying needs.
Sales Training
Improve sales processes and outcomes through identifying skills gaps, creating and implementing educational materials, and providing resources/assistance to the sales team.
"Sales training is the process of teaching sales reps selling skills and strategies that will help them generate more closed deals…This can be in the form of one-on-one training, peer group meetings and certification programs" (Source: Sales Assembly).
Sales Operations
Impact the sales team's performance by implementing new technologies and best practices, suggesting data-driven improvements and supporting the team in maintaining growth.
"Sales ops is responsible for supporting and enabling sales reps to sell efficiently and effectively. This includes everything from automating mundane tasks to lighten a rep's workload to providing the overall strategic plan for the sales organization. Sales operations teams bring a system of selling and structure to a sales organization" (Source: SalesHacker).
Learn more about opportunities in sales operations, metrics to understand, and important skills in this article from SalesHacker.
The bottom line?
A sales career does not have to be linear! Working in a SDR role is an excellent way to break into the B2B tech industry and create a career path that's tailored to YOU and your unique strengths!
Are you ready to begin your journey in SaaS sales?
Create your free Aspireship account to start learning today!
 Learn more about our Graduate Talent Network and job placement.