Why One Aspireship Grad Continues To Share The Program With Family and Friends
Meet Aspireship Unlimited Member Giovanni Migic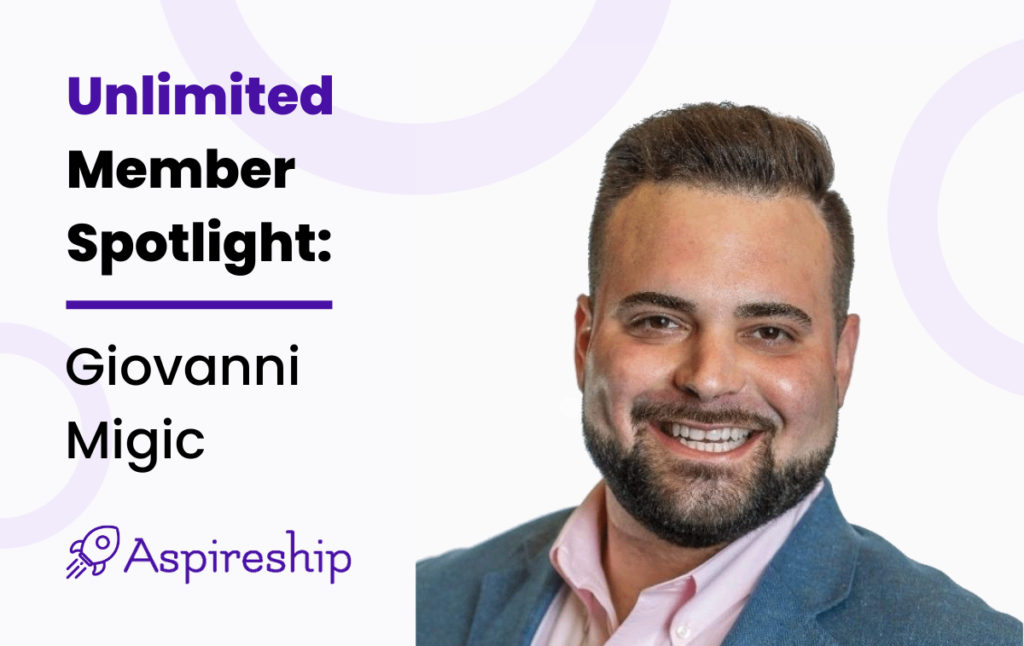 Earlier this year, we introduced Aspireship Unlimited, our new way to completely access everything that Aspireship provides from interview training to certifications in Customer Success Foundations and SaaS Sales Foundations and more.
Giovanni Migic was one of the first people to sign up for Unlimited after benefitting from Aspireship's training, job placement and support.
Despite having 6 years of experience working in sales and management in the rental car industry, he continued to get overlooked by companies and struggled to get into tech sales on his own.
In this member spotlight, we review the power of investing in yourself and how Giovanni utilized Aspireship's SaaS Sales Foundations certification and hiring partner network to land a 20% increase in salary from his prior roles.
Some Background on Giovanni Leading Up To Aspireship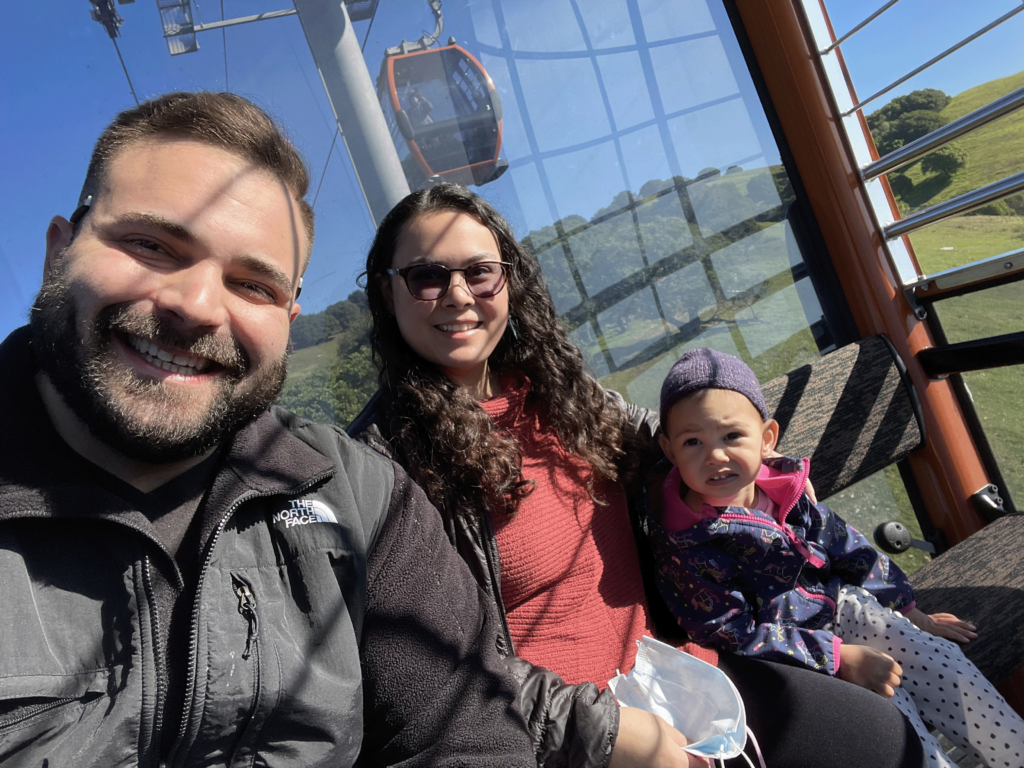 Aspireship: How did you come across Aspireship?
Giovanni: I came across Aspireship on LinkedIn and then signed up for SaaS Sales Foundations.
Aspireship: Prior to the Aspireship course, what was your background in SaaS sales?
Giovanni: I was an area manager for a rental car company.
Aspireship: How were you spending your time prior to finding the course?
Giovanni: Before finding Aspireship, I was working a full-time job while networking and interviewing with several companies.
Aspireship: What was your job search experience like?
Giovanni: I had applied to 3 jobs and the processes took from 2 weeks to 45 days. 45 days into the process with one organization, I followed-up only to be told that they had gone with someone, "further along in the process."
On Learning SaaS (Software as a Service) Sales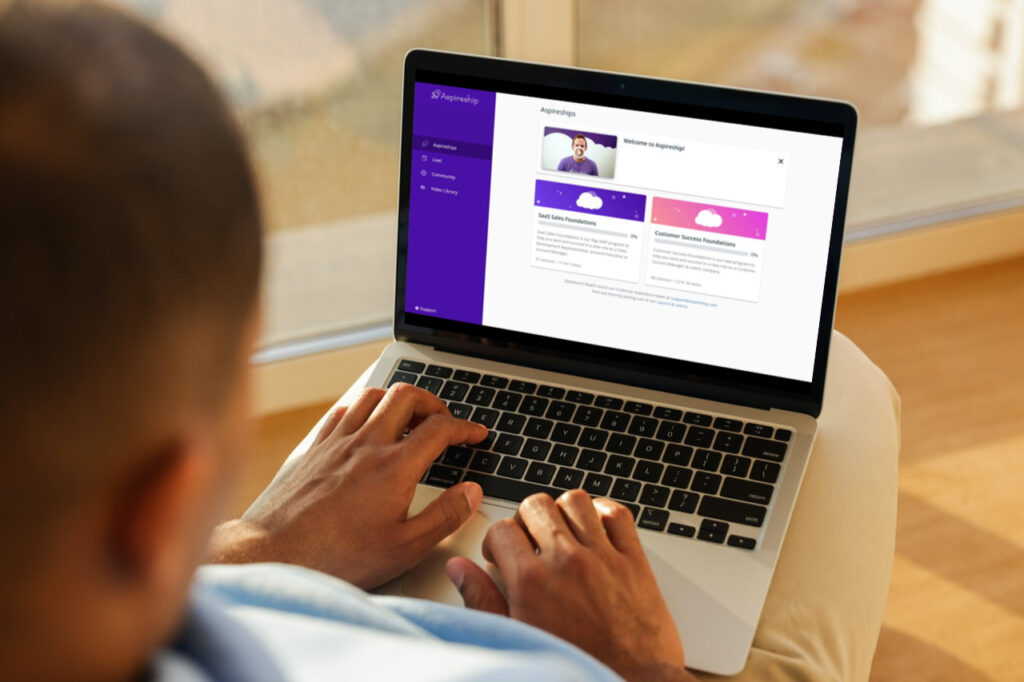 Aspireship: What surprised you the most about the course and content?
Giovanni: I was most surprised by the UX/UI and how interactive the course was to truly allow retention of the material. The course is the most user friendly online course I have ever taken!
Aspireship: What was your favorite take away from the course?
Giovanni: My favorite take away from the course was selling to ATL (Above the Line) vs BTL (Below the Line) buyers with Skip Miller. I also walked away from the course with a strong understanding of the buy process, time management, prospecting, and how to be creative and resourceful to succeed in my role.
Learn more about SaaS Sales Foundations, and get to know some of our expert instructors.
On Making Time for the 20-30 Hours of Content
Aspireship: How did you manage the completion of the course and assignments?
"I gave 120%, took it very seriously and was able to graduate within 30 days."

– 2022 Aspireship Grad Giovanni Migic
Aspireship: What tips do you have for individuals enrolled in the course?
Giovanni: Take it seriously. Remember that the role plays are sent to potential employers. If you don't look the part, present well, and articulate yourself with purpose it may not look great to a potential employer.
On the Interview and Job Placement Process
Aspireship: How helpful was Aspireship's job placement?
Giovanni: Upon graduating the course Austin and Ana from the team both put in a ton of time and effort to help me land a job. Not only did it move quickly but also I was able to earn a 20% increase to my target vs my prior job AND have significantly more upside.
On Other Interests Outside of SaaS
Aspireship: Outside of work, what hobbies do you enjoy?
Giovanni: Hiking and working out. I am extroverted in a work setting but recharge in nature or at the gym where I can take my mind off of the day-to-day and reset.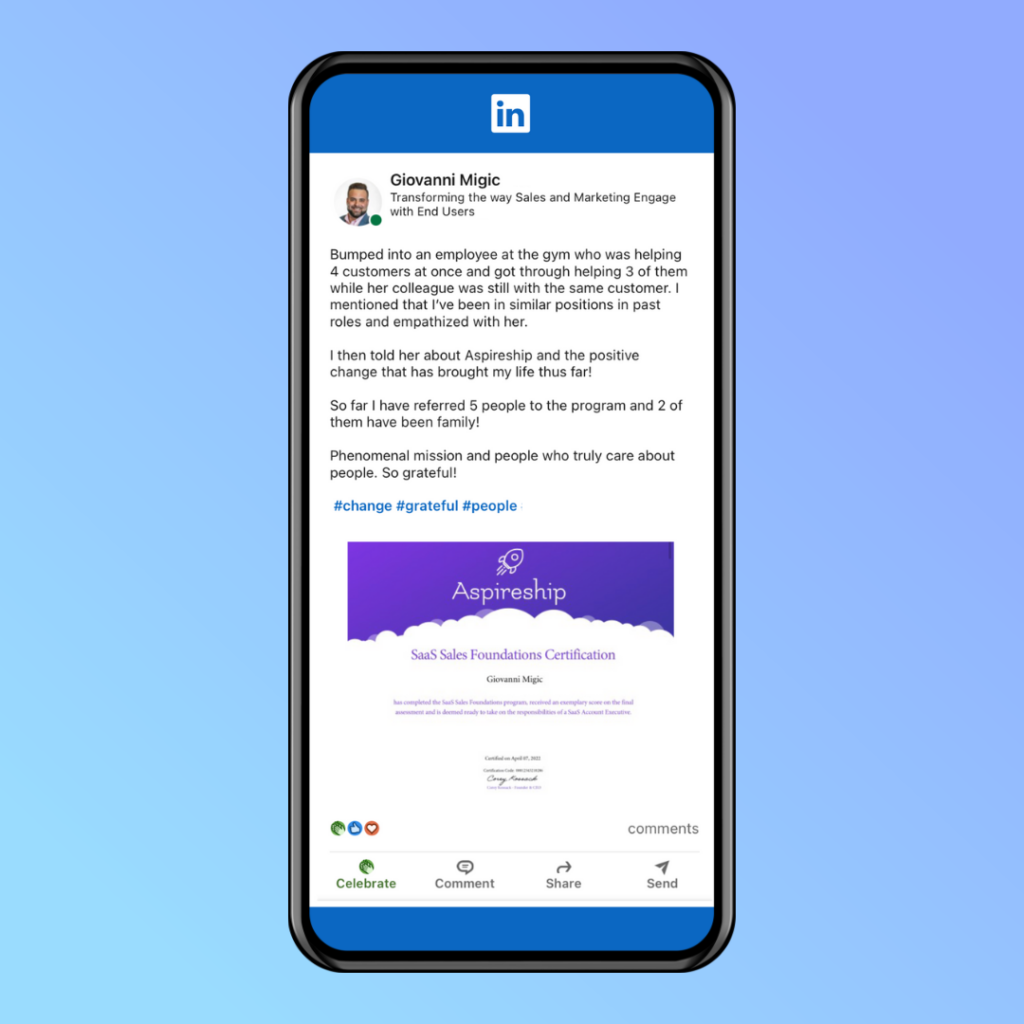 Aspireship: Is there anything else you'd like to share with us?
Giovanni: I highly recommend this program. So far I have referred 5 people to the program and 2 of them have been family! The company has a phenomenal mission and a team who truly cares about people. I am so grateful!
"I received so much from Aspireship that I wanted to support the cause."

– 2022 Aspireship Grad Giovanni Migic
Are you ready to begin your journey in SaaS? Create your free Aspireship account and start learning today.